Top 6 Tip for Strong Social Media Marketing
Social media marketing is now the latest challenge for businesses. Social media marketing is a strategy that enables businesses to interact with their target audiences.
You need to use every opportunity to promote your business effectively on a growing number of platforms like Facebook and Instagram dedicated to social media marketing. Social media marketing is absolutely the best way to get your product noticed by the right people.
This makes them more likely to buy your product or service and interact with you. Instagram is a wonderful example of using social media to expand your brand. Social media is not just a way to market your product or service; it's how you market your company and services.
You can use social media marketing to reach the correct audience at the right time. It can help you to attract new customers, gain feedback and even build relationships with customers who have already purchased from you. It is also the fastest way to make money online.
Social media marketing aims to increase internet buzz about your company so potential clients may quickly locate it. Here are the top 6 tips for conducting social media marketing effectively.
Effective social media marketing is identifying your target audience and refining your content, tone, and interactions to resonate with them. It starts by setting your goals and understanding why people use social media.

Understanding Marketing goals
You should be specific and clear about the marketing goals that will help you keep in mind the aim behind marketing, what is the brand, who is your target audience, and why are you carrying this marketing campaign. Keep the right track on your metrics to understand how much traffic is garnered on your website.
Change the matrix accordingly if you find any odd even in your traffic rate. You can help your company build momentum and increase brand awareness with the right approach.

The first important tip is to know your customer, their habits and interests, who they are, and why they shop with you. Identifying your target audience and refining your content, tone, and interactions to resonate with them. Collect all the needed data about your customer with the help of research and social media analytics, where you will find your audience's overall interest.
Make social media an important marketing strategy by helping customers interact with your brand. With the proper research, you get an insight into the competitor's mistake so that you can feel those gaps in your current strategy.

Create relevant yet unique content.
Social media algorithm keeps on changing from time to time. While creating content for social media, make sure your content is consistent, relevant, unique, and attractive, showing that your post algorithm is worthy of showing up in various newsfeeds that can attract an audience quickly.
Make use of various features provided on social media to spread your brand across a large audience. Creating content for these platforms should be about something that makes the people involved want to share it. You can also use organic posts, paid sponsorship posts, and stormlikes like services to help you skyrocket your marketing strategy.

Make use of proper social media management skills.
Social media marketing is a cost-effective marketing strategy that provides you with social interaction and exposure and ensures customers have a good experience when they need something from your company.
While conducting any marketing plan, ensure you have proper skills in social media management, including skills like Strategic thinking, Organizational skills, and branding expertise. You should opt for paid social media advertising campaign that will help you to boost your brand and expand your followers.

Make use of different social media apps.
Social media allows you to generate word of mouth that improves your reputation. It is a new way to advertise because it reaches people in a way that has never been done before. Social media apps are highly engaging and open to all users; many brands have used them for their business and use the site for sales and customer service. Just don't depend on one app but also consider other apps.
The customer review website is also done on Facebook, Instagram, and Twitter so that customers can reply with their feelings about the product or service.

Build a relationship with the customer.
This is the essential and most important part of social media marketing strategy. You must build a strong relationship with more customers to gain their trust in your brand.
The more people you can get on board, the better. With the aim of doing that, you start engaging with your audience early on. Start engaging with 3-5 of your customers or prospects on Facebook or Twitter. 

Developing a business relationship with customers has many forms: First, you must engage them through social media and send them surveys asking for feedback. Through this, you will directly learn what they thought about their experience from your clients, which will help you improve your product or service.
Second, you can conduct a live session for an hour using the Instagram live feature to discuss with the audience. Also, remember to respond to every query or comment of your audience, if any. With these little efforts, you can expand your market reach and boost your brand awareness.
Conclusion:

Social media marketing can help your company expand, regardless of how big or little it is. All it takes is some knowledge and an understanding of the process. Social media marketing is a cost-effective way to grow the business; that helps you to create a social media presence that you can use as a first step to interacting with customers.
You must follow up with your audience regularly and build relationships slowly, testing many strategies before committing your time and money to one. Social media marketing has immediate and frequently long-lasting benefits.
It's the most convenient and fastest way to get the word out about your business. You can easily skyrocket any business by knowing how to use social media marketing to grow your business and brand, increase sales, and boost customer loyalty.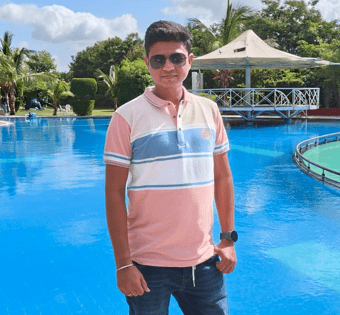 Harsh Mistri is a Digital Marketing Consultant and professional Blogger. He has 6+ years of experience in SEO, SMO, ASO, Blogging, ORM & Google Ads. He loves Blogging Very Much.