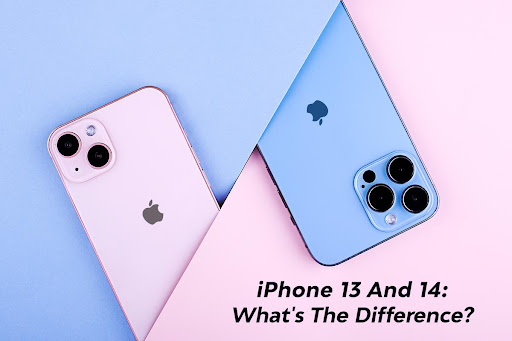 iPhone 13 and 14: What's the Difference?
Each year, Apple attempts to wow users with a new version of the iPhone with groundbreaking features. However, compared to previous years, this year's iPhone 14 comes with few exciting features, and it is, in fact, similar to iPhone 13. 
So if you ask whether the iPhone 13 and iPhone 14 differ, the short answer will be no. There aren't any significant differences to note here. But, of course, there are some marginal advancements. 
If you are considering getting a new iPhone or hope to switch from Android to iOS, you must first know how to activate a new iPhone. The first step is to contact your cell service provider and then transfer data from your previous phone to the new one. 
Let's look at the differences between iPhone 13 and 14, so you can decide which one you must get or gift your loved one. 
Internal Hardware 
The internal Bionic chip is the most noteworthy similarity between the two phones. Both run using an A15 Bionic chip containing the iPhone's graphics card, AI neural engine, CPU, and image processor. 
However, iPhone 14's chip comes with slight advancements. For example, it has a 5-core GPU compared to the 4-core GPU of the iPhone 13. Therefore, videos and games look better in the former and take less power. 
Camera 
Both phones have three cameras. Two cameras on the back and one selfie camera above the screen. 
The back cameras are similar across both models as they have 12-megapixel ultra-wide and main cameras. In addition, each of them has 5X digital zoom and 2X optical zoom. 
Adding a Photonic Engine makes the iPhone 14's camera slightly different from the iPhone 13. This is an additional processing step that makes pictures appear crispier, and there's also an Action Mode that stabilizes shaky videos.
Furthermore, the front selfie camera of iPhone 14 has autofocus, so users can click clearer photos when capturing different subjects at different distances. Also, you can enjoy clearer FaceTime calls and better selfies for your social media accounts. 
Battery 
Thanks to the upgraded A15 Bionic chip, iPhone 14 users get more performance out of their battery charge. The phone can last an hour longer than iPhone 13. So, 20 hours of battery life compared to 19 hours of battery life while playing constant videos and games. 
Both phones support Qi and magnetic MagSage wireless charging and fast Lightning cable charging from a 20W adapter. 
Size 
They're both identical in size. Both phones have a 6.1-inch OLED screen and a resolution of 2532 X 1170 pixels. They are 2.82 inches wide and 5.78 inches tall. Also, they're both made of dust-and-water-resistant aluminum and come with a ceramic screen. 
There's a slight difference in depth and weight. The iPhone 14 is 0.31 inches in thickness and weighs 6.07 ounces. The iPhone 13 is 0.30 inches in thickness and weighs 6.14 ounces. 
Moreover, the iPhone 13 is available in blue, green, Midnight black, pink, red, and Starlight white, but the iPhone 14 comes in Midnight black, blue, red, purple, and Starlight white. 
Price 
The price depends on how much internal storage you want your phone to have. Both phones offer the same storage options – 512GB, 256GB, and 128 GB. 
The price of the iPhone 14 is $1099 (512GB), $899 (256GB), and $799 (128GB). The cost of the iPhone 13 is $100 less at every price point. 
Please note that the price does not include shipping fees, taxes, and extra carrier costs. 
Other Features 
The iPhone 14 has introduced some additional features that iPhone 13 users do not have. 
Emergency satellite SOS connections – Users get a 2-year subscription free for Apple's Emergency SOS via satellite program. So, you can send text messages to emergency services when there's no cell signal. This is done by connecting to satellites flying in space. Then, the location and message are relayed to emergency responders on Earth. 

Built-in force sensor – Thanks to this sensor, the iPhone can detect when the user has been in a car crash. If a crash is detected by the sensor, the phone immediately calls the emergency services. The phone will call them without the user's input if the user cannot respond or call. 

Electronic SIM card – The iPhone 14 uses an

electronic SIM card

or eSIM, which does away with physical SIM cards. Users don't have to pay extra for this. Also, they don't need to have a Wi-Fi connection. Users only need to create an account with a cell carrier that supports eSIMs. 
The Bottom Line 
Regardless of which iPhone model you pick, be assured that Apple will support these versions for years to come. Since iPhone 15 will not be unveiled for another year, there's no rush to decide. Instead, you can take your time and weigh your options.