Fun Facts About Albert Bierstadt
During the 19th century, Albert Bierstadt was one of the most well-known and significant American landscape painters. He introduced many Easterners to the splendor of the American West for the first time with his vast, intricate paintings of the Sierra Nevada and the Rocky Mountains.
Bierstadt, born close to Dusseldorf, Germany, moved to New Bedford, Massachusetts, with his family when he was two. Twenty-one years later, he returned to Düsseldorf to enroll in the renowned Royal Academy. Bierstadt studied the principles of the "Dusseldorf School" under the guidance of Andreas Aschenbach and Karl Friedman Lessing, which is distinguished by meticulous attention to detail, exaggerated atmospheric effects, and heroic compositions, all of which work together to enhance the romantic appeal of the landscape.
In this article, we will be sharing some fun facts about the life and wonderful career of Albert Bierstadt. We're sure you're excited to learn more about this exemplary American painter.
He Paid Someone To Help Him Go To War
Albert paid for a replacement for him during the drafting season as the American Civil War began. Based on his limited interactions with the soldiers and a stereoscopic photo that his brother took, the War became the new subject of his paintings. 
The Civil War and Guerrilla Warfare were two of the war paintings. His Civil War-inspired painting was by the Brooklyn Art Association at the Brooklyn Academy of Music and was a big success. When Albert Bierstadt's work was displayed at the Brooklyn Art Association at the Brooklyn Academy of Music in December 1861, it garnered favorable reviews.
A curator described the Albert Bierstadt paintings as voyeuristic and free of personal experience with violence.
He was a member of the Hudson River School's Second Generation
The Hudson River School, founded by the landscape painter Homer D. Martin or New York Tribune art critic Clarence Cook but was not a formal organization, included Bierstadt as a second-generation member. The term "luminism," used to describe the romantic, almost shimmering lighting of the Hudson River School, was used in meticulously detailed paintings.
However, with the influence of the French Barbizon school of artists, that style started to fade. Bierstadt used pencil sketches, miniature oil studies, and photographs to create Albert Bierstadt's artwork. His approach was cool, objective, and extremely detailed. Some have referred to his work as "not fiction but portraiture" and the "new, Ideal Landscape."
Long after the Hudson River School artists had reached their pinnacle and throughout the early years of Impressionism in Europe, Bierstadt carried on creating American landscapes in his distinctive style. As a second-generation Hudson River School artist, Bierstadt belongs to the luminist movement. Albert Bierstadt style of painting seems to reflect the spirit of Manifest Destiny, like other works in the genre.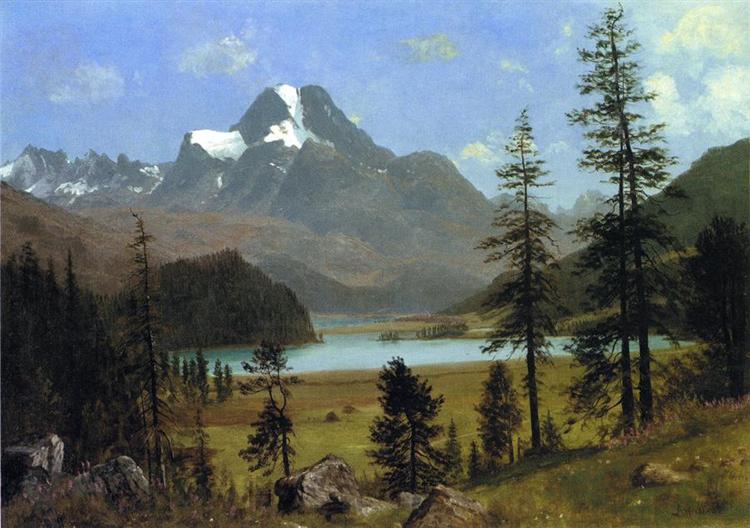 Long's Peak, Estes Park, Colorado – Albert Bierstadt
Born In Germany, Studied In Germany
Bierstadt was born in Germany's Solingen. In 1833, his family relocated to New Bedford, Massachusetts. His family and friends assisted him in 1853 in traveling to Düsseldorf to pursue his studies. Johan Peter Hasenclever, a teacher at the newest and most well-liked art school in Europe, was a relative of his mother's. 
The Dusseldorf Academy's director and painter, Peter von Cornelius, was an ancestor of the individuals that made up the Düsseldorf School. Many changes were made, including focusing on landscape painting, which became Bierstadt's primary passion, and less emphasis on working from molds and more on working from life. Even a professorship for a landscape painter was offered, which was unusual at the time.
Hasenclever had just passed away, and the landscape teacher had moved to open a school elsewhere, although Bierstadt had intended to study under him. Instead, he turned to Emmanuel Leutze and Worthington Whittredge, two other Americans living in Europe. "Here was another waif to be taken care of," Leutze reflected as he painted Washington Crossing Delaware. Whittredge disagreed, noting the young artist's thrift and independence. He took the young man in his arms and frequently wrote about his development.
When the weather permitted, Bierstadt traveled around Westphalia, filling sketchbooks and creating oil studies that he later developed into paintings in the studio. During this period, several of Albert Bierstadt's artworks were transported to New Bedford and sold there, giving him the revenue he had previously been lacking.
Albert left Germany in 1856 for Italy through Switzerland. He spent a productive year in Italy, studying and painting.
The Grand Tetons – Albert Bierstadt
He Got International Acclaim
By 1864, Bierstadt had eclipsed Frederic Edwin Church as America's most prominent landscape architect. Even in Great Britain, Bierstadt was praised as J. M. W. Turner's heir. At the Sanitary Fair in New York, he and Church were displayed side by side with 600 other works, and Bierstadt also included several Native American objects in his display. Four hundred ninety gas jets were used to illuminate the display at night. It is rumored that Frederick Church sought Bierstadt's opinion on his picture of Niagara.
Oil on painting, 73 1/2 x 120 3/4 inches; the Rocky Mountains, Lander's Peak 1863; sold for $25,000. At the time, it was the highest price paid for an American painting. An American in London who purchased it moved it to Europe, but Bierstadt was able to get it back and either gave it to his brother or sold it to him. The Metropolitan Museum of Art is where it is currently on display. For many years, he gave his friends an autographed engraved copy of this painting whenever he felt like complimenting them.
Despite the high prices, his paintings fetched at auction, reviewers of the day did not hold Bierstadt in exceptionally high regard. His unusually big canvases were perceived as self-indulgent. When shown alongside those of his contemporaries, his works were inevitably dwarfed. However, most of his clients had magnificent homes with big interior walls and valued fine art.
After being mostly ignored for years, Bierstadt's paintings saw a resurgence of attention in the 1940s that has lasted ever since.
Conclusion
Albert Bierstadt was one of the foremost painters of his period and an expert painter of landscapes. Unfortunately, his work did not have as much acclaim while he was alive as it garnered posthumously. You can read many more facts about Albert Bierstadt on the internet.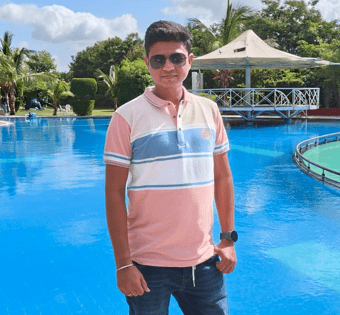 Harsh Mistri is a Digital Marketing Consultant and professional Blogger. He has 6+ years of experience in SEO, SMO, ASO, Blogging, ORM & Google Ads. He loves Blogging Very Much.